Making Math More Fun
Affiliate Program
You can make money simply by referring customers to the Making Math More Fun website.
We pay a 50% commission on all sales through ClickBank.
You can view the web site sales page by clicking here.
Here's How the Affiliate Program Works
The affiliate program is managed by ClickBank.
It pays a 50% commission for every sale your refer. The ebook package currently sells for $27.97.
So for every visitor you bring to our site that buys the book, you earn $12.43 (50%of $27.97 less Clickbank's commission).
PLEASE NOTE The amount you receive for each sale may be less than what is stated above if I am having a sale. However having a sale can increase your chance of converting a potential customer to buyer by up to 800%.
ClickBank independently tracks all sales and issues commission checks every two weeks. <![if !vml]>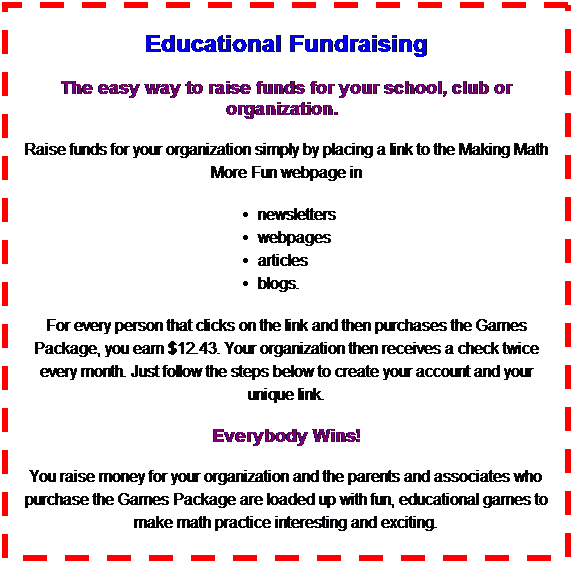 <![endif]>
Joining our affiliate program takes only a minute or two.
1. First you need a free Clickbank hoplink, this can be obtained by visiting the signup page at Clickbank.com. Here you will select a "Nickname". This is the name of your account.
Once you have signed up you will receive an email containing an 8 digit code. Use this 8 digit code as your password to login to your Clickbank account. You only need 1 account. Do not sign up more than once.
2. Next you create your own Clickbank hoplink using the Nickname you selected in step 1. This is easy to do. Simply replace the word nickname in the link below with your actual nickname.
http://nickname.seaeagle.hop.clickbank.net
Or alternatively use this link to generate the code automatically for you.
After clicking on the link above, enter your ClickBank "Nickname" on the page displayed and press the "Submit" button. Write down the link that is generated. This is known as your "hop link".
Now when a friend clicks on your link they will be sent directly to The Making Math More Fun Games Package homepage.
Simultaneously Clickbank tracks this activity and pays you if a a purchase is made. In fact you can be paid for a sale for up to 30 days after they first visited the webpage, as a cookie is left on their PC after their initial visit.
An order is made via a secure page on the Clickbank site. The affiliate name is listed at the bottom of the page, below the copyright notice.
Once the transaction has completed, Clickbank will send 50% of the sale to you and 50% to me.
Every fortnight Clickbank send out checks to their thousands of affiliates.
You can join our affiliate program right now by clicking the link below:
Click Here To Join Our Affiliate Program
Questions? Email me by clicking here: teresa@patabak.com
USEFUL RESOURCES
Autoresponder Program - World Internet Office
Affordable and Powerful. Click Here to try the World's Smartest Shopping Cart system.